Introduction
Our story is rooted in hard work and perseverance. From humble beginnings in 1982 when we began manufacturing food grade Agar Agar for the local market, we have grown to become the market leader in India, today. Our products are used by MNC clients in the pharmaceutical, food, healthcare and beauty industries across the world.

We are a modern technology driven company based in traditional values. Today we have a production capacity over 350 M.T per annum and we export to several countries in South America, Europe, CIS & Russia, Africa, Middle East, South East Asia, USA, Far East, and Australia.

Innovation is an integral part of our DNA and we are continually meeting the needs of a changing market. Through consistent work at our R&D labs, we break out of habitual thinking models and truly innovate and identify new consumer trends to introduce new quality products across Bacteriological, Pharmaceutical and Plant Tissue Culture grade Agar Agar, Wonder Gel,Agar Agar Food Grade Strips, Plant gel, Agarose, Carrageenan, etc.

We are committed to growth and are at an exciting phase where we have the technological prowess and infrastructure capability to successfully meet the challenging demands of a growing and discerning global customer base.


| | | | |
| --- | --- | --- | --- |
| Agar Agar Brochure | Carrageenan Brochure | Culture Media Ingredients | Green Agar Brochure |
| Plant Gel V3 Compressed | Sealife Brochure | Wondergel Brochure | |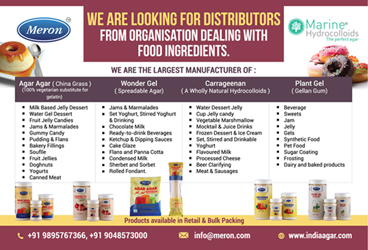 Read More